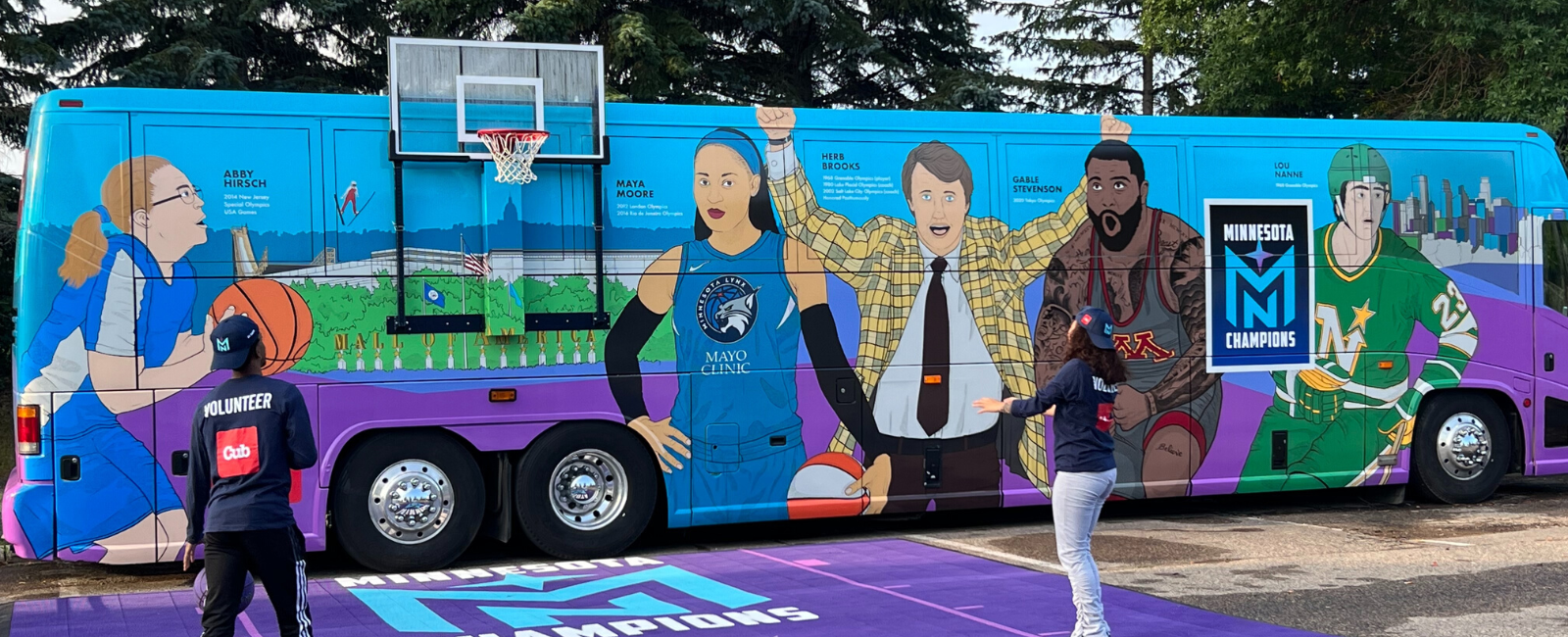 Minnesota Sports and Events
MNSE Champions Council Announces Class of MN Champions
Wednesday, September 13, 2023
MNSE Champions Council Announces Class of MN Champions Eleven Minnesotan Olympians will contribute to the MN Champions Tour
MINNEAPOLIS (September 12, 2023) – The Minnesota Sports and Events (MNSE) Champions Council, a diverse group of community leaders invested in the state's vitality, has selected a new class of MN Champions, a group of Olympian star athletes who have inspired generations of Minnesotans. The 2023 class is made up of 11 Minnesota athletes who have participated in the Summer and Winter Olympic Games, the Special Olympics USA Games and the Summer and Winter Paralympics.
The MN Champions selection was headed up by a committee, co-chaired by WCCO-AM Radio Host Henry Lake and Founder and CEO of T Time Sports Management Teresa Bergs and based on the athletes' involvement and impact on their communities locally and nationally. The committee curated a ballot of eligible athletes, and the MNSE Champions Council voted on 11 great Champions. The 2023 MN Champions are:
Henry Boucha
Herb Brooks
1968 Grenoble Olympics (player)
1980 Lake Placid Olympics (coach)
2002 Salt Lake City Olympics (coach)
Abby Hirsch
2014 Special Olympics USA Games
Sunisa Lee
Maya Moore
2012 London Olympics
2016 Rio de Janeiro Olympics
Lou Nanne
Cheryl Reeve
2016 Rio de Janeiro Olympics
2020 Tokyo Olympics
2024 Paris Olympics
John Roethlisberger
1992 Barcelona Olympics
1996 Atlanta Olympics
2000 Sydney Olympics
John Shuster
2006 Turin Olympics
2010 Vancouver Olympics
2014 Sochi Olympics
2018 Pyeongchang Olympics
2022 Beijing Olympics
Gable Steveson
Mallory Weggemann
2012 London Paralympics
2016 Rio de Janeiro Paralympics
2020 Tokyo Paralympics
"There is an abundance of talented athletes to choose from in Minnesota, so it was tough for us to narrow down the list," Lake said. "Each of these athletes has demonstrated integrity and strong values while not only dominating the sports they love, but while serving their communities."
In September and October, the MN Champions Tour, sponsored by Cub, will bring the MN Champions story to life and provide fans with the opportunity to interact through sports including basketball, curling, gymnastics and hockey. The tour will make stops at various events, including Excelsior Apple Days, the University of Minnesota Golden Gopher football games on Sept. 30 and Oct. 28, the Minnesota Wild's home opener and M Health Fairview Masonic Children's Hospital. The Tour will also be at the Cub store in Stillwater on Saturday, October 7, where Lou Nanne will make a special appearance at 11:00 a.m. to celebrate the start of hockey season.
The tour will also feature a memorabilia exhibit where fans can check out items such as Lou Nanne's Team USA sweater jersey, John Shuster's 2018 Olympic jersey, Gable Steveson's shoes and a replica of his gold medal, the iconic Miracle on Ice photo signed by all 20 players and Coach Herb Brooks, John Roethlisberger's 1992 Olympic jacket and Abby Hirsch's 2014 Special Olympics USA Games t-shirt and more.
"It's important for us to celebrate these athletes, who have put tireless hours into training over the years and given back to our local communities," said Carrie Higgs, Director of Community Relations and Communications, Cub. "They have all been big inspirations for generations of Minnesotans and will continue to be positive role models for generations of athletes to come."
For more information about the MN Champions and the MN Champions Tour stops, go to www.mnsportsandevents.org/MN-Champions-Tour.
####
About MNSE Champions Council
The Minnesota Sports and Events Champions Council launched in December of 2022. The council is a group of diverse and engaged community leaders who understand the positive impact that hosting large-scale events, particularly sports, can have on a community. This team of committed leaders collaborates, networks, advises and champions efforts to positively impact Minnesota's communities through world-class sporting events.